Shipping Home




For all orders
100% Secured




Cashback Guarantee
Customer Support




24/7 Support
Fast Delivery




Fast Delivery
Welcome to Leeventus.com
LEEVENTUS – This is your new high-quality shower-toilet attachment directly from the manufacturer!
Easy self-installation on your existing toilet.
GERMAN BRAND – You can buy the best branded shower-toilet attachments at LEEVENTUS: directly from the manufacturer at very reasonable prices!
OUTSTANDING DESIGN – Our unique design convinces at first sight and was awarded with a design award in Korea.
QUALITY CONTROL – Each individual model undergoes extensive checks and meets the highest quality standards.
MULTI-FUNCTIONAL – Thanks to the many functions and setting options: water temperature + water pressure + nozzle position + dryer temperature + seat heating temperature, preheated seat in the cold season, pulsating + oscillating nozzle, LED night light, the Smart Toilet is the most pleasant solution in every situation.
Our smart toilet gives you a healthy, natural and soothing feeling of freshness. The Smart Toilet is the purest form of modern personal hygiene with water. The seat of the Smart Toilet is designed for cleaning the intimate area (anal and intensive cleaning, and vaginal area with the Lady Shower) and is intended exclusively for this use. A pre-cleaning with paper is not necessary (even disadvantageous). The Smart Toilet can be used like a normal toilet at any time, as the flushing functions independently of the Smart Toilet.
Why should you opt for our Smart Toilet?
You are purchasing a premium quality product directly from the manufacturer without any intermediate trade.
Qualitatively low-value bidets under 250 Euro will not give you any pleasure when going to the toilet.
In the case of other retailers, you cannot return shower/toilets after use or after breaking the seal, because they are hygiene products. However, it is possible to return the goods to us within 30 days!
We not only offer you products of the best quality, but also an uncomplicated, professional and friendly service, so that you can purchase our products with the highest satisfaction and use them over the long term.
We are bestsellers / Comparative winner in electronic shower/toilets on various comparison portals!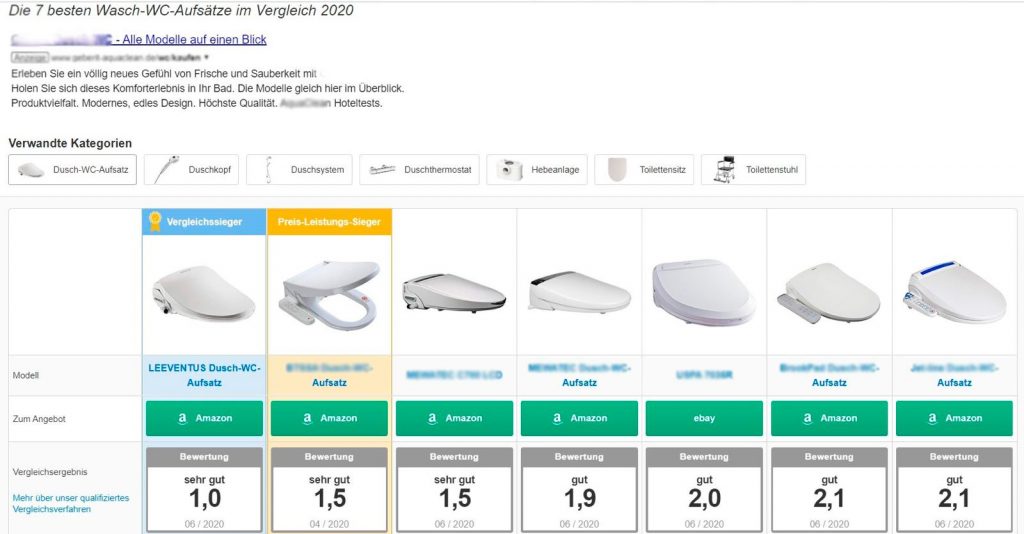 Is our Smart-Toilet also intended for you?
Yes, indeed!
Our smart toilet is particularly pleasant and advantageous for:
Girls and women during menstruation
Pregnant women
People suffering from anal disorders such as haemorrhoids
Older people or people with limited mobility
Overweight people up to 130kg
People with hard stools and constipation
People who must go to toilet more than twice a day
Give it a try, you won't regret it!
You should consider this when buying a shower/toilet:
If you want to buy a shower toilet attachment, it is much more important, regardless of the manufacturer, that you buy one not with a tank technology, but definitely with an instantaneous water heater technology. Here are the advantages of instantaneous water heater technology over tank technology:

1.You don't have stagnant water in the tank, you always have fresh water available for cleaning.

2. over time, mold and bacteria are guaranteed to form in the tank, but not with instantaneous water heaters because there is no tank with them.

3. water pressure in the instantaneous water heater is much higher than in the tank technology.

4. in the tank technology is conditionally small amount of water in the tank, the water jet, regardless of the manufacturer, very thin and causes many people stabbing pain, especially seniors. With the instantaneous water heater models, you have strong yet gentle water jet and thus much better cleaning result.

5. absolutely power saving compared to tank models, because of the instantaneous water heater technology, because power is only consumed when needed.

In our company, only the J850R model is equipped with instantaneous water heater.

6. who pays the return shipping cost of the return? We also pay the return shipping cost.

7. does the seller take back the goods even after the seal is broken and the goods have been used? Only with us, the return is possible even after the breaking of the seal and after the use within 30 days.

8. where is the product made? You should only choose branded products that are made in Germany, South Korea or Japan to avoid any nasty surprises. Our product is manufactured in South Korea.

9. Does the seller have a branch in Germany? In case of a defect, a repair settlement with a seller abroad is very difficult and expensive, because usually you have to pay the shipping costs yourself. We are registered in Germany at the local court in Frankfurt. In case of warranty we will cover the shipping costs completely.

10. are all important assembly kits included? With many shower toilets, you need additional accessories from the hardware store for the connection. With us, all the parts needed for installation are included. And only with us you have an extra long water hose (3 meters), which you can shorten to the required length!

11. only our instruction manuals are recorded in the following languages:

English, French, German, Italian, Spanish.

12. if you buy from a dealer located abroad (outside EU), you will have to pay customs duty and import VAT. Our goods are already cleared for the entire EU countries and the import VAT has also already been paid.

So we save you: no unnecessary trips to the customs office, no additional costs!